Welcome to Atlantic Termite and Pest Control's Web Site!
Atlantic services Boston, The South Shore and The Cape and Islands
We are a fourth generation, family owned and operated full service termite and pest control company. Atlantic specializes in Termite control, commercial mosquito control, FHA/VA inspection reports, bat houses, carpenter ant control as well as miscellaneous pest control. Check out our services page for a full list of details.
Retaining the services of a competent pest control company is important because pest control requires specialized equipment and specific knowledge available only from professionals. Atlantic Termite and Pest utilizes top of line equipment and technology as well as the latest techniques in pest control.
The professional exterminators at Atlantic will work hard to ensure your pest control issues are handled correctly and safely the first time.
Atlantic technicians are trained to handle just about any pest in any scenario. Termites, ants, rodents, bees, wasps, mosquitos, bed bugs, spiders, fleas, roaches - you name it - Atlantic Termite and Pest Control has the know-how and the skills to help you quickly and cost effectively live in a pest free environment.
Call 774.381.8025 or eMail Mike@AtlanticTermiteandPest.com for a free estimate or questions about our business.
First time customers, mention "ATLANTIC" and receive $25 dollars off on any service!
As always, senior citizens and veterans receive a %15 discount!
Atlantic Termite & Pest Control is also currently running a Spring 2011 Termite Special. From now until June 1st receive $100 off any termite control treatment!
For up to the date news about Atlantic Termite and Pest Control, tips & questions check out The Bug Blog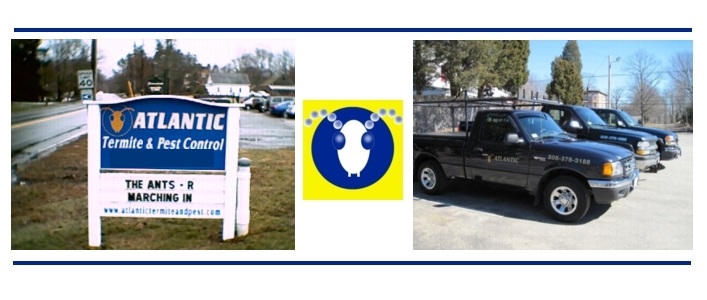 Atlantic and Bat Conservation

Call Atlantic and ask about our bat house program which has received national attention in print, press and web media!
America's bats are an invaluable natural resource. Yet due to decades of unwarranted human fear and persecution, bats are in alarming decline. By putting up a bat house you are helping bats find a home. You will also benefit from having fewer yard and garden pests
As the primary predators of night-flying insects, bats play a vital role in maintaining the balance of nature. As consumers of vast numbers of pests, bats rank among humanity's most valuable allies. A single brown bat can eat hundreds of mosquito-size insects an hour. A typical colony of big brown bats can protect local farmers from the costly attacks of 18 million root-worms each summer.